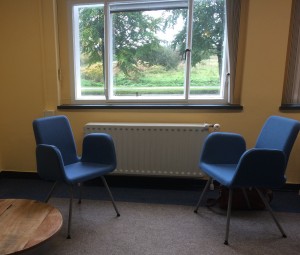 Coaching sessions at Karuna – coaching with life questions can be arranged by e-mail or telephone. At the end of each session another appointment will be made, unless otherwise agreed upon. Usually sessions take place during day time, although just after office hours is possible, as well. Also, appointments can be made for sessions on Saturdays. 
The series of sessions always is preceded by an interview. Thus we can start to get to know each other a little, and the client has the opportunity to pose some questions about the work as soon as they pop up.  
Later-on, coaching may consist of: inner child work; trauma work; attachment; trans-personal therapy; systemic work (e.g. family constellations). We often draw on experiences that occur in everyday life. 
The introductory meeting is free of charge. The rate for therapy sessions (60 minutes) with one individual is €75. The rate for a couple's session is €140. Students, and individuals having a so-called PGB, or persoonsgebonden budget, will be charged according to mutual consultation.  
If you are unable to fulfill an appointment, and cancellation did not take place 48 hours prior to the appointment, the session rate is still due to be paid. Cancellation of an appointment of more than 48 hours prior to the session will be free of charge. Besides this, appointments always can be moved without any charge.
Please be aware of the fact that all amounts mentioned on this page are excluding V.A.T. (21%). Payment in cash or by bank transfer. In all cases the client(s) will receive an invoice and/or payment receipt. 
At any moment, referral to another healthcare provider can be considered. This will not take place without the client's consent. In principle, a chronic psychiatric illness could be reason for referral. 
Rendering services to companies and institutions 
For companies or institutions it is also possible to have employees supervised by Karuna. We gladly will provide this type of service. Also, we can facilitate systemic work for companies. We work with highly experienced professional representatives. They will not be aware of what's going on in the specific cases, which is a great help to do the job. Costs for lending this type of services will be settled after mutual consultation. A cancellation fee also is applicable for companies and institutions. If a session is cancelled two weeks or less prior to the date of this session, we will charge the client 60% of the amount agreed upon. Cancellation of an appointment of more than two weeks prior to the session will be free of charge. Besides this, appointments always can be moved without any charge. It goes without saying that information obtained from the meetings with each client is processed strictly confidentially. In case information has been received through e-mail, we are not able to grant its confidentiality.